Cascade M11 Helmet – The Messier Project
Mark Messier has teamed up with Cascade to launch the newly designed Cascade M11 Helmet.  The helmet uses the same Seven technology as the previous Cascade CHX helmet (which we talked about back in 2007).  However, the largest drawback of the CHX was that it wasn't  a very stylish helmet.
The Cascade Seven technology uses "lateral displacement technology" to provide the protection of two helmets in one. The theory is that the M11 helmet protects equally as well against concussions as it does against catastrophic hits.
From CHX to M11:  The Re-design and Re-launch of the Cascade Helmet
Messier was brought on board by Cascade as an adviser to assist in upgrading the areas where the CHX lagged and to make a more desirable helmet by player standards. He brought his knowledge of player expectations to the table and provided Cascade with a design that would be more acceptable to players by addressing style, comfort, weight and ventilation.
We knew about Cascade and the major advancements they had made with the CHX helmet over two years ago.  However, even technology with the potential to save careers and possibly lives,  needs the proper promotion.
That said, the following video outlining the new promotional campaign and showcasing the newly designed M11 helmet was just released.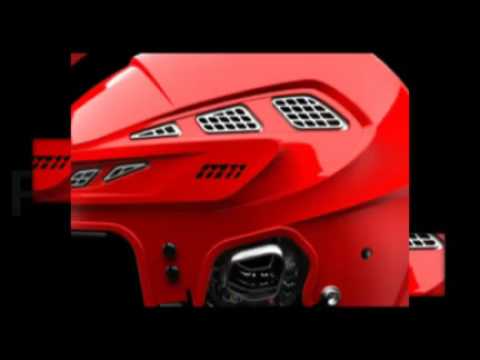 Credibility is Key
As Messier commented on a conference call yesterday:  "The helmet needs players in the NHL to wear it in order to obtain credibility as a product".
According to Messier, we can expect to see more than 5 NHL players using the Cascade M11 helmet in the 2009-2010 season and it is possible that we may see the entire NCAA Harvard University hockey team wearing the M11 helmet as well.
The projected release date for the M11 helmet is sometime this fall (2009) and the price point for the helmet is expected to be $119.99 USD without a cage.
Messier's Involvement with Cascade Sports
Messier now sits on the Cascade board of directors and acts as a liaison to hockey organizations, helping to promote the M11 helmet and educate hockey players on the effects of concussions as part of The Messier Project.
Mark's sister, Mary Kay, is the Vice President of Business Development for Cascade and also Mark's manager. She reported to CBC back in March about the upcoming promotional campaign for the new Cascade helmet (A.K.A Messier Project ) – although we didn't know the name of the project at the time.