We All Focus on the Winners, Right?
Darryl Sittler's record for most points (10) in one game still stands. He scored his amazing six goals and four assists on February 7th 1976 for the Toronto Maple Leafs against the Boston Bruins. This is a legendary record that many hockey fans will never forget. But there is one person who would like nothing more than to forget that night!
Who Else, But the Goaltender for the Bruins?
Dave Reece was in goal for the Bruins as their starter that season, Gilles Gilbert, was injured and they opted not to take the risk with the Gerry Cheevers; who was just back from a stint in the WHA with the Clevland Crusaders. Don Cherry, who was coaching the Bruins at the time, was saving Cheevers for a game versus Detroit the next night in Boston.  Cherry claims he had to hang Reece out to dry because Cheevers hadn't even practiced with the team since returning.
(Source: Don Cherry video on Sittler's 10 point game)
Maybe it was Cherry's decision to leave Reece in goal? Or, maybe it was a matter of chance or coincidence?  Whatever the cause, this chain of events led to Darryl Sittler setting the NHL record for best individual statistical performance in a single game.
Unfortunately, the result of this accomplishment is what Dave Reece became infamous for. In fact, he was even nicknamed "In the Wrong Place at the Wrong Time Reece" and is remembered by the moniker to this day.
Reece, a fantastic college and minor league goaltender, did not have any more memorable achievements with either the Boston Bruins or the United States Olympic Team. Certainly, nothing that would overshadow that night.  In fact, Reece never did play another NHL game after that fateful Saturday night in Toronto.
Food For Thought
Reece was allegedly told prior to that game that he would be sent to the minors in order to make a roster spot available for the newly acquired Cheevers. That said, is it possible that Reece was so distraught about the news that he intentionally played poorly? Highly unlikely, but considering the circumstances, it begs the question.
Could this record ever be broken? It's possible, though highly unlikely, that a player might get 10 points in one game again. But, how probable is it that a goaltender would be left in the game after giving up 6,7,8… goals? Especially if they all came from the stick of the same player?
Kevin Stevens was a player often overshadowed on a very remarkable Pittsburgh Penguins Stanley Cup Championship team. But, in the 1991-92 NHL season, he became the only player in the history of the league to have 50 goals, more than 100 points and 250 penalty minutes. This record remains unbeaten to this day, and is just one of several achievements by the unheralded Pittsburgh Penguins power forward.
Stevens will also be remembered for another remarkable feat during the 1991-92 NHL season – he was the 3rd person to have more points than the legend Wayne Gretzky in single season. Although teammate Mario Lemieux edged him out for the scoring title, Stevens scored an astounding 123 points for the Pittsburgh Penguins that season.
This achievement was also a record for the most points scored by a US born player in a single season at the time. Stevens 123 point single season has been bettered by only one American since. In the following season Pat LaFontaine scored 53 Goals and 95 Assists for 148pts.
The Injury
Sadly, a most unfortunate facial injury suffered courtesy of the visor of Rich Pilon on May 14,1993. Following the devastating hit, Stevens required reconstructive surgery on his face. In an operation that lasted more than four hours, doctors made an incision below his hairline which stemmed from ear-to-ear. This incision was later repaired with the use of 100 stitches. During the surgery, doctors peeled back Stevens' skin and reconstructed his facial bones using of metal plates.
Video: Stevens Hits Pilon – Shatters Face.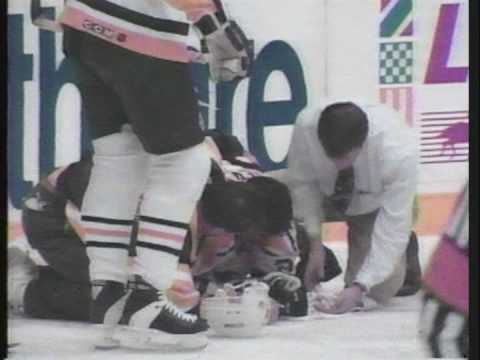 Post-Injury Career
Stevens returned from the injury the following year and remarkably played quite well. In what would be his last prolific season in the National Hockey League, he managed to score 41 goals and added 47 assists, without missing a single game. Even though he still racked up 155 penalty minutes that season, Stevens wasn't quite the potent power forward he used to be. Some suspect that the injury may have taken a mental toll on him, making him second guess physical confrontations he would previously have engaged in. Whatever the case, Kevin Stevens was never quite the same player again.
Why would we be interested in such an odd record? Well, for one thing, you have to win the Stanley Cup in order to get your name misspelled on it. And, this Hall of Famer was an instrumental player on a very successful team!
Stanley Cup Engraving Errors
The record belongs to Montreal Canadiens goaltending legend Jacques Plante. His name has been misspelled on hockey's Holy Grail an amazing five times! Some of the errors include 'Jack', 'Jocko' and 'Plant'. Despite this curious fact, the famous Canadiens goaltender has many other numerous achievements to be remembered for.
About Jacques Plante
Jacques Plante, known as "Jake the Snake", played for the Montreal Canadians for 10 years between 1953 and 1963. He won the Stanley Cup six times (to get his name misspelled five of these). What is even more amazing is that the Montreal Canadiens won 5 cups in a row during his tenure!
Plante's individual awards are just as impressive. They include numerous selections for the NHL First All-Star Team, being a Vezina Trophy winner 3 times and winning the Hart Memorial Trophy in the 1961-62 NHL season.
The First Goalie Mask
Plante is certainly most famously known as the first goaltender to wear a mask in regular season games. In fact, he was actually one of the inventors and developers of the goalie mask. After receiving seven stitches to the face and a broken cheek bone, courtesy of an intentional shot by Andy Bathgate, Plante began to wear a mask on a regular basis.The original fiberglass goaltender mask that he wore on that famous occasion in November of 1959 is preserved to this day in the Hockey Hall of Fame.
Retirement
Jacques Plante was inducted into the Hockey Hall of Fame in 1978 and was selected to the Canadian sports Hall of Fame in 1981. Plante died in Geneva, Switzerland on February 27, 1986 from stomach cancer and was laid to rest in Sierre, Switzerland.
This is one record that will likely never be broken. Not only would a player have to win the Stanley Cup five times or more, engravers with today's technology would have to be awfully clumsy to make an error that many times.
I think this record is safe. What do you think?
This achievement belongs to Derian Hatcher who won the Stanley Cup as a captain of the Dallas Stars in 1999. Hatcher started his career with the Stars some 10 years earlier after being drafted by the then Minnesota North Stars in the 1990 NHL Entry draft.
Hatcher is famous for his massive physique (height of 6 ft5 and weight of 235 lbs) and physically punishing style that made him one of the most fearsome defensemen in the league.
Hatcher scored in his first game as a Minnesota North Star on October 12, 1991 in a 3-2 win against the Detroit Red Wings. He continued to dominate the Stars' blueline even after the move to Dallas, contributing 1,380 penalty minutes, 223 assists and 71 goals during his career with the Stars.
The hulking blueliner signed a $30 million contract with the Detroit Red Wings in 2003, but did not have much success in Detroit, having his contract bought out in 2005. Later in 2005 he became a member of the Philadelphia Flyers and went on to become an interim captain for the Flyers a year later.
Hatcher was also part of the US national hockey team for most of his career and even participated in two Olympic Games, suiting up for Team USA in 1998 and 2006.
After suffering a severe knee injury during the 2008-09 NHL season, Derian Hatcher announced his retirement in June 2009. Hatcher is currently a player development coach for the Philadelphia Flyers, the place where he ended his National Hockey League career.
The 1984-85 NHL season marked a notable event in the history hockey for the United States. With his 53 goals and 95 points, 21 year old Bobby Carpenter became the first US born player to eclipse the 50-goal benchmark.
Carpenter's 53 goals surpassed the previous record of 41 set by St. Louis Blues standout, Joe Mullen, during the previous NHL season.
However, this is not the only record that Carpenter holds. In fact, Carpenter's early career, from as far back as high school, was full of accomplishment.
High School To The NHL
In addition to being the first to score 50 goals in a season, Carpenter is also noted as the first US citizen to jump to the NHL directly from high school. What's more, in 1981, Carpenter became the first player born in the USA to be selected in the first round of the NHL entry draft. It is not surprising that he was named the "Can't-Miss Kid" by Sports Illustrated that very same year.
Carpenter played in the National Hockey League for 18 seasons from 1981 to 1999. His numbers were fantastic in his early days, but Carpenter had mixed success later in his career. During his 18 seasons he took part in 1,178 games, scoring 320 goals and adding 408 assists.
Winning The Stanley Cup
One of the highlights of  Bobby Carpenter's career was his election to the NHL All-Star game in 1985. The only moment to trump that All Star Game was when he finally won the Stanley Cup during the lockout shortened 1994-95 NHL season with the New Jersey Devils. Carpenter stuck around New Jersey following his playing days, adding more Stanley Cup rings in 2000 and 2003 as an Assistant Coach with the Devils.
Though he never scored more than 27 goals in a season following his record setting year, Bobby Carpenter was inducted into the United States Hockey Hall of Fame in 2007 along with former NHLers Aaron Broten and John Vanbiesbrouck.
Steve Yzerman is a true legend in the history of the Detroit Red Wings. He served as the team's Captain from the 1986 until his retirement in 2006.  Though his career as a player has ended, the people of Detroit still call him 'The Captain'.
But, because Yzerman was the Captain of the Red Wings for two decades, many people forget that he took over the captaincy from Danny Gare prior to the 1986-87 NHL season.
Danny Gare was born in Nelson, British Columbia in 1954 and played for the Detroit Red Wings from 1981-82 to the 1985-86 season. Those were some of the leanest years in the history of the Red Wings franchise. This lack of team success somewhat explains why Danny Gare is more renowned for his career as a Buffalo Sabre, where he spent the 8 previous seasons from 1972 to 1982 .
Gare Most remembered As A Sabre
The Buffalo Sabres made the right winger famous for his quick wrist shot. Gare's achievements throughout his 17 year hockey career include two seasons of over 50 goals, with the most memorable one being 1979-80 when he scored 56. Those 56 goals left him tied for the league lead with Charlie Simmer of the Los Angeles Kings and Hartford Whalers sniper, Blaine Stoughton.
Danny Gare participated in two NHL All-Star Games, 1980 and 1981. In 2005 his number 18 was retired by the Buffalo Sabres – an honor that has been granted to only six players in the history of the franchise. Gare still holds many team records for the Sabres, but none for the Detroit Red Wings. Gare's time in Detroit was forgettable, but the career of Detroit's next Captain, Steve Yzerman, certainly was not!