The First Overall Pick
Another year, another Edmonton Oilers first overall pick, it is truly amazing how a team can get 3 consecutive first overall picks.  A team that is just waiting to explode into the playoffs if they can get some competent defence and if Dubnyk progresses steadily or trade for a stronger goalie. This is the reason that although I am almost certain that Nail Yakupov will be drafted first overall, I am not convinced that he will be drafted into an Oilers uniform.  There just is not enough ice time to share among these elite players in Nugent-Hopkins, Hall, Eberle, Hemsky.  Add Gagner, Paajarvi, Horcoff into the mix of people that can play top 6 minutes.  This is without considering the financial situation when they will have to sign these young players to the contracts they deserve.
While you have a potent forward lineup in Edmonton, the defence is far from it, there is something wrong when your top defensive pairing is Ladislav Smid and Jeff Petry. Will you really be able to justify spending so much on your forwards when your defence is this anemic?
Whether they trade down to get a solid defensive prospect in Ryan Murray, Mathew Dumba, Griffin Reinhart, Morgan Reilly or Jacob Trouba along with some other components.  They may also trade the first overall pick straight up for solid established defensemen.
The Columbus Blue Jackets are undergoing a face change and who are more desperate to get a homerun pick than the Edmonton Oilers.  Where do they need help? Almost everywhere…  They have a better top 2 defenseman than the Oilers in Johnson and Wisniewski but that is not saying much.  They seemed to have goaltending figured out in Steve Mason but that fizzled as quickly as a Raycroft or a Jim Carrey.  The forwards on the team are going to be very different from the start of last season as Jeff Carter has been traded and it is likely that Rick Nash will be as well.
So it is very difficult to get a read on what Columbus will do as well.  It is also worth mentioning that they have horrible luck. They finished last in the league by a long shot and did not land the first overall pick.  They also had LA's first overall pick which would have been considerable mid round pick in the first round, but LA went on and won the Stanley Cup, so the pick ends up being the last pick of the first round.  The top forwards in the draft are 3 players with Russian decent that may remind the Columbus faithful of Nickolay Zherdev or a Nikita Filatov….*shudder*
It is hard to grasp what will happen in this draft especially unlike the last few years there have been a few solid picks that were vying for first overall.  This year we have question marks on many of the top forward prospects:  Grigorenko had mono, Galchenyuk was done most of the season because of an ACL injury, and even Yakupov suffered a serious injury last year.
In the last few years when we look at the draft, defenseman usually gets picked after when competing against a forward that is similarly touted.  Have a look at Larsson that was supposed to be in the top 2 last year and dropped to fourth or Hedman vs Tavares.  This may be due to it taking longer to develop a defenseman.
Whatever happens with these 2 picks will dictate the rest of the draft.
Although I am baffled on what will happen with the first few picks in the draft, I am more perplexed that New Jersey did not give up their first rounder this year as part of the penalty for circumventing the cap in the Kovalchuk deal.  Are they going to try to make their team better by trading it to give this ownership a last ditch effort at the Cup this year? Is there someone that they really want to draft that is projected in the early second round?
Should make for an interesting draft day!
This season's young crop of 18 year old hockey hopefuls have been put to the test by all 30 teams, combed over by the Central Scouting staff and now all they can do is wait for their name to be called.
The first round of the 2008 NHL entry draft begins Friday night at Scotiabank place where all eyes will be on young Steve Stamkos of the Ontario Hockey league's Sarnia Sting.
While Stamkos and his NHL caliber speed are on the top of everyone's list, it's the NHL clubs in need of blue liners that are licking their chops as we edge closer to draft day.
Top Defensive Prospects
The 2008 NHL entry draft appears to be top heavy on the blueline according to the Central Scouting Bureau as 5 of the top 6 North American skaters are blue liners. The top five defenseman available in this year's draft are as follows:
1.) Zach Bogosian – Peterborough Petes
Bogosian lead the Petes in scoring this season, making him the only defenseman in the Ontario Hockey League to do so. While his favorite player, Detroit's Chris Chelios, is on his way out of the National Hockey League, many scouts think Bogosian is ready to make the jump right now. While already being praised for his skating ability and puck movement, he certainly has the size to play in the NHL at 6'2″ and 200 pounds.
2.) Drew Doughty – Guelph Storm
With excellent speed and world-class confidence, Doughty is one of the most prepared players available in this year's draft. With a host of international experience with Canada's junior teams, Doughty plays a very solid defensive game and approaches the game with poise and confidence. His accolades include being named the top defenseman at the 2008 World Junior Hockey Championship – not a bad thing to have one your resume heading into your draft year!
3.) Tyler Myers – Kelowna Rockets
Although he is a fluid skater, being a massive 6'7″ tall, entices concern about his ability to shut down the quickness of NHL caliber forwards. However, with a tremendous shot and scoring potential, he has an upside of Zdeno Chara potential which may allow a team to gamble on his development.
4.) Luke Schenn – Kelowna Rockets
Schenn is known throughout the Western Hockey League for his tenacity and physical play. With a reputation as a tenacious defender with exceptional size and strength (6'2″ and 216 pounds) he may very well see action in the National hockey league sooner than later.
5.) Alex Pietrangelo – Niagara IceDogs
The 6'3″ 209 pound blue liner notched an impressive 53 points this past season with a +29 rating and 94 penalty minutes. Some scouts have questioned his indecisiveness, but his upside as an offensive defenseman and potential power-play quarterback is undeniable.
NHL Returns To Canada
In last year's NHL entry draft, no fewer than 11 United States college players were taken in the opening round. In a complete flip-flop, we could be looking at as few as one first round selection with United States College hockey on their resume, making it one of the worst years in draft history for US College Hockey.
After a wave of American players making their way into the draft's opening round for the past half-decade or more, we can expect 2008 to return to the year of the Canadian. When Friday's opening round launches from Scotiabank Place in Ottawa, you can bet it will be the players from north of the border making their way to the podium with much more regularity than their American counterparts.
Is this season simply an anomaly or have significant changes made by grassroots hockey in Canada over the past decade now starting to show the fruits of their labor?
Exactly one year to the day after Robbie Bina scored on Minnesota from 170 feet, Evan Trupp scored one of the most amazing goals that we've ever seen.
The following video shows a failed clearing attempt by Minnesota where North Dakota defensman, Robbie Bina, returns the puck deep in the Minnesota zone.  Subsequently, at 2:23 of overtime, Trupp batted a saucer pass from behind the net out of mid-air and past the Gopher goaltender to win the game.
What is possibly more amazing is that the forward line North Dakota had on the ice consisted of all freshman.  With UND's rich history of sending players to the NHL, there is little doubt that at least on of these freshman forwards will be joining the ranks in the near future.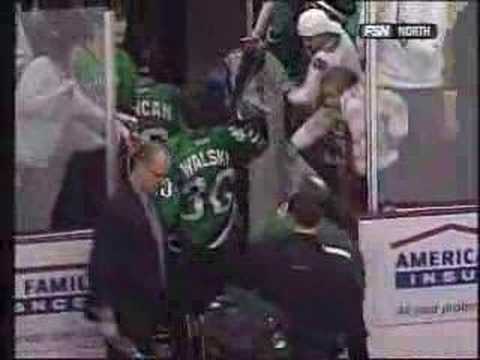 St. Louis Gametime's Brad Lee Submits:
It seems like it was just last week that we were hopeful and excited about seeing the debut of 2007 first-round pick David Perron in a regular season game. Hey wait a second, it was last week. And we're still waiting.
Perron, 19, has spent his first two games in the NHL wearing a tie while watching from the press box. With the home opener Wednesday night, we don't expect the rookie to lace up his formerly white skates and risk getting caught up in all the hoopla.
And of course the next game is the first Friday night game of the year and we don't see Perron getting the call then–too much excitement/liquor in the building that night especially for such a fragile young guy. Next week the Blues play at Chicago, the first division road game. Nope, too risky there, plus there's the ghost of Bill Wirtz to deal with. Oct. 23, the Ducks are here at the DrinkScotch Center. Pronger could hit him harder than a carton of Pall Malls and stunt his growth.
See what we're getting at?
Perron can play in nine games without burning a year off his contract and bringing arbitration/free agency a season closer. We understand that because of his age the only choice besides keeping him on the NHL roster is sending him back to his junior team where he won't have adequate competition or professional training and coaching (minimum age in the AHL is 20).
But isn't it a little risky to keep a kid dangling at the bottom of the roster and parked in the press box every night? How legitimate is this nine-game tryout?
Shouldn't a 19-year-old be playing as much as possible even if it's against lesser competition?
Isn't there a player in Peoria or a free agent who could benefit by being on the NHL roster, practicing with the team and fighting for ice time?
Hopefully the Perron Experiment can get underway shortly and the team makes a decision about him for the season. Otherwise, we're afraid the team will do more harm than good for his development and his chances of being a legitimate contributor on the St. Louis Blues.
Boston College goaltender Cory Schneider announced that he will skip his senior season with the Eagles to sign with the Vancouver Canucks, according to BC head coach Jerry York.
Northern Michigan forward Mike Santorelli has signed with the Nashville Predators, and will forgo his senior season with the Wildcats.
The Ottawa Senators snagged two underclassmen from the college ranks this week in Michigan State junior Jim McKenzie and 2005 first-round pick Brian Lee out of North Dakota. Lee, a sophomore defenseman, went ninth overall in 2005 and the native of Fargo, N.D., also set career highs in assists (24), points (26) and penalty minutes (69) with the Fighting Sioux.
Milan Lucic of the Vancouver Giants won the Most Valuable Player at this year's Mastercard Memorial Cup in Vancouver. The hometown Lucic helped the host Giants win their first ever Memorial Cup at home in this past weekend.
In the final game versus the Medicine Hat Tigers, Lucic came out flying and delivered three consecutive bone jarring hits to the Tigers in one shift, finishing it off with a victory in a fight versus Medicine Hat's Josh Bendfeld.
While Vancouver controlled the game from the outset, I would suggest that, during that one shift, Lucic tipped the scales for the Giants who never looked back after that.
Lucic, a Bruins second round pick, is certainly big enough to play in the National Hockey League. At six-feet three and 220lbs, Lucic has a power forward presence with the upside to be a second line player in the NHL. Playing an "in your face" style, Lucic will likely be asked to hone the finer skills of his game in order to make the jump to the next level. However, a memorial cup MVP trophy certainly won't hurt his chances of cracking the Bruins' line-up come fall.
Not only is Lucic a bonafide prospect on the ice, he also has also displayed quality leadership skills, earning the respect of his teammates.
"There's something to be said for a guy who will drop the gloves, who will score, who will do all the little things in a game," said Kendall McArdle. "He's really a leader of our team."
I'm looking forward to seeing Lucic in a Bruins jersey next season, at least for a couple of games.
If you want to get a head start on your Milan Lucic hockey collection, head over to eBay now for deals on Milan Lucic Collectibles.