I recently shared this video uploaded to Youtube by Reebok on Twitter and several people commented that it had to be staged.
The video shows Sidney Crosby shooting at a pyramid of pucks stacked on the boards. Crosby picks the top puck off of the pyramid with a wrist shot, misses another wrister and then takes a slapshot that eliminates the pyramid from the boards.
After the slapshot is taken, one puck rolls along the top of the boards and Sidney picks that puck (a moving target) off with one final wrist shot.
So, is it real or staged?
Expectation in Edmonton are high, to say the least, for their three young "stars" as we heard in our recent interview with Jason Gregor from the Team 1260 radio in Edmonton this week.
At least one of those youngsters, Jordan Eberle, wasted little time in showing Oilers fans some of the flash and brilliance they could get used to seeing.
Eberle's first NHL goal was nothing short of spectacular as he took a rolling puck from the right side boards and executed a filthy toe-drag, pulling the puck to his backhand and beating Miikka Kiprusoff high to the blocker side while falling into the end boards. Oh, and it was a short handed goal.
As a young hockey player we all had dreams of scoring our first goal in the National Hockey League in highlight reel fashion. Jordan Eberle is living that dream. Watch this video of his first goal… again and again.
It is unlikely that this is in response to the accusations that the latest NHL History Will be Made videos outright neglected the Montreal Canadiens, but the NHL has continued with their series of promotional videos of historic NHL playoff events by adding a recent goal from Mike Cammalleri to their arsenal.
Cammalleri knocked a puck out of mid-air past a sprawling Marc- Andre Fleury in Game #2 of the Montreal vs. Pittsburgh series to seal the victory for the Canadiens.
A tremendous display of hand-eye coordination, coupled with the victory by the underdog and the simplicity of the production made for what was likely an easy decision by the NHL to release another video.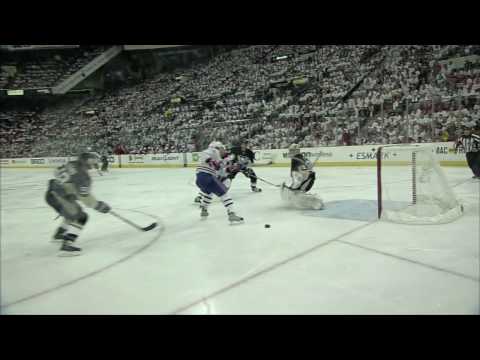 Will This Really Be Memorable?
Sure, Cammalleri's goal was a great display of athleticism and propelled the underdog to victory, but this is Game 2 of a second round series. The History Will Be Made commercials leading up to the playoffs depicted pivotal events in hockey history. Now it's Game 2 of the second round?
So, If the NHL is going down this road, what other moments in this season's playoffs are just as deserving (or more) than Cammalleri's goal?
Is it a slippery slope for the NHL to begin depicting which events from the current playoffs will "make history"?
P.S – I wonder how long we will see the History Will Be Made Parody videos continue to pile up on YouTube?
Andy Sutton caught Jordan Leopold tonight with one of the most forceful body checks that we've seen this season.  Leopold lay unconscious on the ice following the collision, while Sutton continued his momentum through Leopold with such force that he knocked the gate to the penalty box open.
Regardless of whether or not this hit was 'technically' clean, as I believe it was, it did result in a head injury.  Even with the new headshot rule, each hit resulting in a head injury will be debated with respect to the 'intent' to target the head. The determination of 'intent' will likely be the next hot topic in instances like this.
The NHL ruled that there would not be a suspension on this play.
Here is a comment on the hit from Kuklas Korner reader, Primis:
It was not a blindside hit, Sutton was coming from at about 11-o-clock, or maybe 10:30 on Leopold's fore.  The fact that Leopold wasn't looking that way is hardly Sutton's fault.

The puck is there.

I believe Leopold's head DID hit Sutton's arm (in the bicep region), but that is more Leopold's fault than Sutton's.  If Leopold has his head up, that doesn't happen.

Sutton doesn't *have* to make that hit, but it also doesn't make it illegal.  And Sutton's so friggin' huge and Leopold small enough that it's going to end poorly for Jordan every time, no way around it.

Get your head up next time, Jordan.
What are your thoughts on this hit?
Do you think the new headshot rule will cause debates about 'intent' to target the head?
When the Boston Bruins visited Toronto to play the Maple Leafs, many hockey fans wondered if Colton Orr would drop the gloves with Milan Lucic. Lucic, even though there is no doubt he is a tough customer, had only fought three times this season prior to this tilt with Orr.  One has to wonder if his early season injury has played a factor in his confidence?
Orr on the other hand has racked up 18 fighting majors this season with Toronto, exhibiting the truculence that GM Brian Burke so desires.  There is no doubt after watching the video of this fight between Lucic and Orr that Orr certainly got the better of Milan in this one.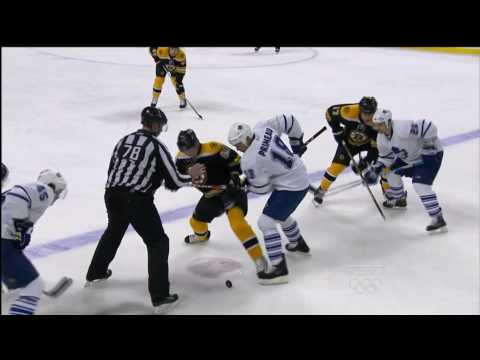 After watching the video of this fight, I still wonder why Lucic wasn't more aggressive in throwing punches early in the fight when he had Orr's jersey over his head. Of course, that's easy to say when you're sitting behind a keyboard and not tangled up with one of the NHL's toughest customers!
In one of the scariest moments in hockey since Clint Malarchuk's throat was cut by a skate, Slovakia's Lubos Bartecko lost his helmet and struck his head on the ice following a vicious elbow from Norway's Tollefsen.  A massive amount of blood began leaking from the back of Bartecko's head as training staff rushed onto the ice to treat him. A frightening moment in what has been a rather exciting Olympic hockey tournamanet thus far.
The good news is that Bartecko is said to be recovering and not suffering from any major injuries, but did suffer a concussion on the play and is not supposed to be in the lineup on Wednesday.
The bad news is that the barrage of checks to the head continues from NHL players this season (Tollefsen is property of the Detroit Red Wings).
I think Puck Daddy wrapped it up best here:
Tollefsen received 25 minutes in penalties, including a match penalty for "Checking to the Head and Neck Area" and a five-minute major during which Michal Handzus(notes) and Marian Gaborik(notes) scored for Slovakia. It was a reprehensible head shot from the recent Detroit Red Wings acquisition.