Steve Downie Hits Dean McAmmond
Dean McAmmond suffered a concussion as a result of a viciuous hit at the hands of Steve Downie. Downie, a 20-year old prospect caught McAmmond coming around the back of the net with his head down. However, Downie's hit was a blatant charge and certainly deserved the match penalty that he received.
After viewing the video footage, it is apparent that Downie definitely left his feet during the body check.
Downie will likely be a little intimidated the next time he faces off against the senators.
"It was a cheap shot. There's no part in the game for hits like that," said Senators right-winger Brian McGrattan, who was ejected from the Senators' 4-2 exhibition victory after he sought justice on the offending Downie. "A guy can't defend himself and you take a 40-foot run and jump and hit him. Hopefully the league takes a look at it. Those are the hits we don't want in our game."
Downie Received a 20 Game suspension for his actions?
Do you think it was worth 20 Games? Give us your opinion in the comments!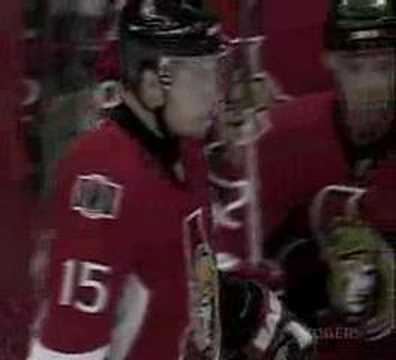 I'm not sure if the Flyers think that bringing back the Broad Street Bullies will increase ticket sales, but they have made NHL hockey tickets including Detroit Red Wings tickets, Anaheim Ducks tickets, NJ Devils tickets, and Boston Bruins tickets more sought after as these rivalries heat up down the home stretch of the season.