If you've played hockey for any reasonable length of time, you will no doubt be familiar with the 'unique' fragrance produced by well used hockey equipment. A quick wiff of a skate, glove, or heaven forbid a shinpad, can often be enough turn the stomach of even the most grizzled veteran.
And while most players and parents  make an effort to wash the equipment that can be washed in a regular washing machine, it still leaves a lot to be desired. The odor causing bacteria that resides in equipment that can't be traditionally washed such as gloves, skates and elbow pads not only stinks, but can be dangerous.  In fact Joe Thornton and other NHL players have missed several games due to an elbow infection caused by bacteria from equipment. Some, including, Thornton have even required surgery for Staph infections.
Often we don't think of the health consequences of having such bacteria lingering in our equipment, but are mostly concerned about the smell. The truth is that the bacteria are the cause of both the stench and the health concerns, so we we must get rid of the bacteria to solve both problems.
Over the past few years, I am sure you have noticed machines popping up at local rinks and pro-shops that promise to get the odor out of your equipment in just a few minutes.  Several of these machines use Ozone technology which kills the bacteria and helps to eliminate the odor. Ozone is powerful and effective, used in water treatment for years, and is proven to eliminate 97-99% of bacteria living on your equipment.
Which Equipment Sanitizing Machine To Use?
A good start when looking for a product to use is always is to find out what the professionals are using. In this case, 27 of 30 NHL teams use an equipment cleaning machine from Sani Sport.
When such an overwhelming majority of professional teams use the same technology, it says a lot about the effectiveness and quality of the product.  With that in mind, calls were made to local shops looking for a store that used Sani Sport. Finding none in Regina,  a quick search of the Sani Sport website revealed that the local Canadian Football League team uses the Sani Sport machine.
With training camp just completed and the regular season about to get underway, it was surprising to be able to get in touch with Roughriders Equipment Manager, Gordon Gilroy. Although Gilroy couldn't arrange time to allow a test of the machine, he did offer some strong words of praise for Sani Sport.
In addition to routinely sanitizing the Roughriders football gear, Gilroy also mentioned that he used the machine during the World Junior Hockey Championship that was hosted in Regina this past winter.
Joking about how bad hockey equipment smells, Gilroy stated "I did hockey equipment in there during the World Juniors and it was unbelievable… even the gloves that went in there came out smelling just like new, it's crazy."
Final Thoughts On Cleaning Hockey Gear
Ultimately, it is important to get your hockey equipment sanitized at least a couple of times per season to avoid the health risks of infection. In addition, it will likely gain some brownie points with other members of your household by keeping the hockey smell out of the house.
*Tip – Use Febreze Antimicrobial
(not regular Febreze) on your equipment following each use. This will help to keep the odor and bacteria in check between trips to the Sani-sport machine.
Have you used an equipment sanitization machine? What was your experience?
The World's largest hockey stick was found during a quick search on Flickr. At first we thought we would find Zdeno Chara's stick, but we were mistaken.
Zdeno Chara shoots Left and this giant stick at the Cowichan Community Centre in Duncan, British Columbia is a Right-Hand shot!


Thanks to bcanna for the image!
Facts on the World's Biggest Hockey Stick & Puck:
The World's Largest Hockey Stick & Puck is 40 times life size.
The shaft and blade of the stick are made in sections with steel-reinforced Douglas Fir beams measuring 3 foot by 4 foot (91.44 cm by 1.2192 m) for a total length of 205 feet (62.48 metres).
The stick weighs 28,118 kg (61,000 pounds) and was built in Penticton BC. The final product was trucked to Vancouver in two pieces, spliced together on the ground, then lifted into position on August 21, 1985.
After the fair in Vancouver, the hockey stick was transported to Vancouver Island by barge and 3 flat bed trucks exactly two years later, on August 21, 1987.
The World's Largest Hockey Stick & Puck was dedicated at the Cowichan Community Centre in Duncan on May 21, 1988, two years to the day after Expo '86 opened.
The Guinness Book of World Records officially granteded the title of World's Largest Hockey Stick on July 14, 2008 after a 20-year battle for recognition. At one third the length of Duncan's stick, residents of Eveleth, Minnesota can no longer claim their 21-metre wooden hockey stick to be the biggest.
Source: BC Attractions.
As part of our worst hockey equipment ever made series, we present to you a pair of fur hockey gloves!
We are not sure what inspired these gloves, manufactured by a company called Rinky, but they certainly deserve recognition as part of our worst hockey equipment series.
They apparently retail for about $39.99 and are geared toward female hockey players.
Coming in as a close second to the fur gloves are these "Golden Hockey gloves"  made by TPS.
Over the past couple of weeks I have been using the Shock Doctor Ultra STC mouthguard during my hockey games.
Fitting the Ultra STC is very easy and similar to fitting other 'boil and bite' mouthguards.  The entire process takes just minutes and the result is as good a fit as you will get from any mouth guard that has not been fitted by a dental professional.  One word of caution when fitting the Ultra STC is that you MUST follow the directions for leaving the mouthguard in the boiling water for at least 90 seconds.
I made the mistake of taking it out too soon when I saw the edges soften and the fit was not as snug as I would have liked.  That said, I put the mouthguard back into the boiling water and re-fitted it after leaving it in for just over two minutes and it formed to my mouth much better.  I can't help but think, however, that if I performed the initial fitting correctly it would have  resulted in an  even better fit.
In addition, it is important to fit the mouthguard correctly because Shock Doctor offers a warranty for the user of the mouthguard if fitted correctly according to the instructions.  This is a limited warranty that covers some dental work that may not be covered from your regular insurance.
Ultra STC Mouthguard Features
The most noticeable aspect of the Ultra STC versus other mouth guards is the pad on the bottom side of the guard that rests against the bottom teeth.  These Air Cushion Shock Pads re thick enough to help cushion the blow between the teeth, but not so thick that it is uncomfortable or restricts breathing.
The Ultra STC features what is called Mora Performance Enhancement. According to the theory, when fitted and worn correctly, it positions the lower jaw down and forward and the tongue up onto the roof of the mouth, which may increase strength and athletic performance.  It is very difficult to measure and notice for the average player, but if you play frequently at a high level, it may be more noticeable.
To be honest, I have never been a fan of mouthguards, but I have been using a custom fitted mouth guard that I had made at my dentists office.  The Ultra STC is, obviously, not as form fitting as my custom model, but it cost about 3X as much as the Ultra STC.
According to Dr. Robert Cantu, a widely recognized expert, there is no evidence that custom fitted mouthguards offer more protection than 'Boil and Bite' versions.
"There are no statistics to suggest that custom-fit mouth guards are better than boil and bite mouth guards" Dr. Cantu said. "There is a higher level of comfort with custom-fit but not more protection."
For youth players who play many times per week, I highly suggest getting a custom fitted mouthguard as the more comfortable it is, the more likely they are.  However, for adults who don't play frequently, I certainly think the Shock Doctor STC deserves some serious consideration.
The Ultra STC is available from Total Hockey.net for $22.99 or directly from Shock Doctor.com for $24.99.
Mark Messier has teamed up with Cascade to launch the newly designed Cascade M11 Helmet.  The helmet uses the same Seven technology as the previous Cascade CHX helmet (which we talked about back in 2007).  However, the largest drawback of the CHX was that it wasn't  a very stylish helmet.
The Cascade Seven technology uses "lateral displacement technology" to provide the protection of two helmets in one. The theory is that the M11 helmet protects equally as well against concussions as it does against catastrophic hits.
From CHX to M11:  The Re-design and Re-launch of the Cascade Helmet
Messier was brought on board by Cascade as an adviser to assist in upgrading the areas where the CHX lagged and to make a more desirable helmet by player standards. He brought his knowledge of player expectations to the table and provided Cascade with a design that would be more acceptable to players by addressing style, comfort, weight and ventilation.
We knew about Cascade and the major advancements they had made with the CHX helmet over two years ago.  However, even technology with the potential to save careers and possibly lives,  needs the proper promotion.
That said, the following video outlining the new promotional campaign and showcasing the newly designed M11 helmet was just released.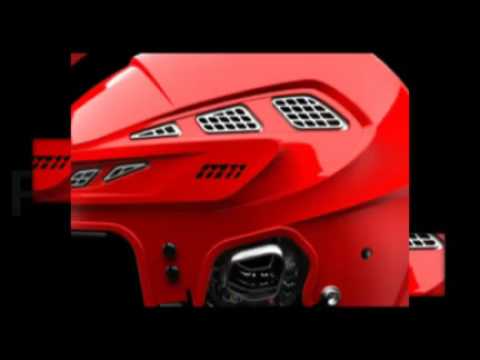 Credibility is Key
As Messier commented on a conference call yesterday:  "The helmet needs players in the NHL to wear it in order to obtain credibility as a product".
According to Messier, we can expect to see more than 5 NHL players using the Cascade M11 helmet in the 2009-2010 season and it is possible that we may see the entire NCAA Harvard University hockey team wearing the M11 helmet as well.
The projected release date for the M11 helmet is sometime this fall (2009) and the price point for the helmet is expected to be $119.99 USD without a cage.
Messier's Involvement with Cascade Sports
Messier now sits on the Cascade board of directors and acts as a liaison to hockey organizations, helping to promote the M11 helmet and educate hockey players on the effects of concussions as part of The Messier Project.
Mark's sister, Mary Kay, is the Vice President of Business Development for Cascade and also Mark's manager. She reported to CBC back in March about the upcoming promotional campaign for the new Cascade helmet (A.K.A Messier Project ) – although we didn't know the name of the project at the time.
The folks at Shock Doctor have officially revolutionized the hockey bag business!
Over the past several weeks, I have been using the Shock Doctor Power Dry hockey bag.
Admittedly, I was a skeptic of this technology at first.
However,the Power Dry bag provides a great method of carrying (complete with wheels) and protecting your equipment, while including a system to dry, deodorize and keep your gear fresh.
The Shock Doctor bag accomplishes this through a patented airflow technology that combines the bag with a blower system (sold separately). The system provides not only controlled heat and airflow throughout the bag, but also utilizes ozone technology to deodorize the equipment at the same time.
Cool stuff… but does it really work?
How Ozone Works
Ozone is a natural substance that kills growth such as bacteria, mold, mildew, and fungus from sporting equipment. Once you place your equipment in the system, the ozone is released and attaches to airborne and surface contaminants. It destroys them and then reverts to pure oxygen. Ozone oxidizes impurities in the air, which destroys mildew and mold.
Other Uses For Power Dry Technology
In addition to being able to quickly dry and deodorize your equipment in the bag, there are very cool attachments (sold separately) that allow you to dry your skates, gloves, helmet etc. outside of the bag using the Power Dry Octopus Attachment.
The Octopus attachment (seen on the right) will also come in very useful for drying those winter boots and gloves that get wet from use in rain or snow.
To Buy or Not To Buy
While this technology may seem unnecessary to some, it is certainly very convenient for tournaments to quickly dry equipment between games and for those who may not have warm space to dry equipment without stinking up the entire house between games!
The Shock Doctor Power Dry system is certainly technology that provides value and does what it says it will do.  The Large bag is necessary for a full set of adult hockey equipment and the drying/deodorizing process can take a couple of hours. If you're worried about the noise of the blower, don't be. That was a concern of mine too and it is honestly much quieter than a hair dryer.
That said, the versatility of the Power Dry system to work for other sports gear as well as household uses makes it more valuable than just a "Hockey Bag".
The Power Dry System can be purchased on Shockdoctor.com for $200.00 (including bag and blower) or the bag can be purchased separatley from Total Hockey for $79.99. Click here now to go to TotalHockey.net