In last night's game Toronto's Colton Orr and Ottawa's Matt Carkner fought for the third time this season.  A head injury was incurred during this fight and the fight was clearly staged.
Read on to watch the video and please comment with your thoughts and opinions of this fight versus head shots from a body check.
A Staged Fight, No Doubt
This is one of those hockey fights that the NHL is supposedly trying to get rid of – the staged fight.
Here is an excerpt  on the matter from the NHL meeting last year:
"The presentation (Monday) on our stats, the history of fighting, where we are at today, injuries, was very extensive," NHL Vice President and Director of Hockey Operations Colin Campbell said. "We tried to categorize staged fights, fights that were responding to legal and illegal hits, a lot of things. The idea was to understand where fighting is at today and what the League has done about fighting over the years when they thought fighting had became unfair and where and if fighting belonged in the game."
There was no doubt going into the game that these two were going to fight. Orr and Carkner had each gotten the better of the other in one of the two previous fights this season.
This time, it was Colton Orr that sent Carkner to the ice with a series of 3-4 solid right hands. The last of which had Carkner seeing stars.
Video of the Orr vs. Carkner  fight
Assessing A Head Injury
As the announcers in the video mention, it was good work by the officials and the trainers to get Carkner off of the ice and into the locker room for examination.  However, Carkner was back on the bench several minutes later and resumed regular shifts for the balance of the game.
There is no doubt that this fight resulted in at least some measure of head trauma for Carkner, and we can applaud the staff for taking precautions by getting him examined. As a non-medical professional, I cannot question the decision to let Carkner return to the game, but I do wonder what the true extend of the injury might be.
Supplemental Discipline For This "Head Shot"?
It is interesting that this fight resulted in a head injury and that these types of "staged fights" that the NHL is trying to avoid go unpunished.  It is extremely disturbing to me as a hockey fan to see bodychecks to the head, during the heat of the play (intentional or not – which is a different matter) receive lengthy suspensions, while staged fights like this one that serve no purpose to the game but results in similar injury, go unpunished.
I mean, if any fight was predetermined/staged, it was this fight between Orr and Carkner. The game was 1-0 and it was the first period. No reason to fight for either team to "shift momentum" etc. It happened right off of a faceoff where neither player was lined up directly opposite to the other. Completely unnecessary.
Don't get me wrong, I like a good tilt just as much as the next guy, but to me an unnecessary fight causing a head injury needs more policing from the league than the currently legal hits (with shoulder/not charging) to the head that happen in the heat of the moment.
Yes, there are two willing combatants that know what they are getting themselves into. But, if the NHL really wants to deter these so-called staged fights, then they have to act accordingly. That said, I'm not so sure that it's not just lip service from the league at this point.
What do you think?
Darcy Hordichuk got a great piece of Toby Petersen at center ice with a clean hit and was instantly challenged to a fight by Krys Barch.
You know, I get the fact that players have to be protected on the ice and that is part of Krys Barch's job, but I'm also getting sick of guys getting challenged to fights when they've simply made a clean body check.
In any event, both Hordichuk and Barch landed a few punches in this fight, but I think it's one of those fights that just didn't have to happen.
Of course, this is easier said than done because in the heat of the moment Barch sees Hordichuk level Petersen at center ice and it's just instinct on his part to come to his teammate's defense.
Enjoy the video of the fight below… what do you think? Was this fight necessary?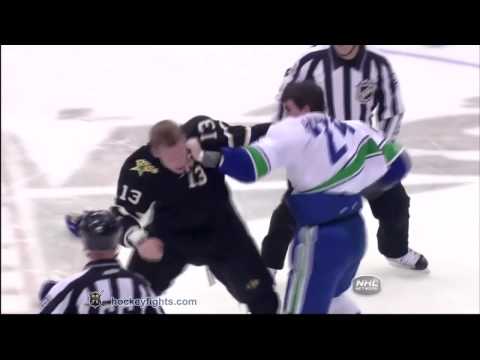 For those of you who want to see fighting banned from the NHL, tell me that this fight between Jordin Tootoo and Brad Staubitz isn't entertaining.  If you say it's not there are 17,000 screaming Sharks fans that can be heard in the background of the video that strongly disagree!
Staubitz and Tootoo went toe-to-toe in this fight, with Staubitz getting the decision after landing several left hands on Tootoo.  Tootoo headed straight to the dressing room for repairs as Staubitz opened him up for stitches.
I'd also like to mention to Kelly Hrudey that even though Tootoo got the worst of the deal in this fight, he did stick up for himself and did not shy away from the challenge of Staubitz.
For those who are not familiar with Hrudey's dislike for Jordin Tootoo, please refer to this article. [Kelly Hrudey's High Horse]
Warren Peters and Ben Ondrus, both accomplished minor league fighters, decided to show their wares when given an opportunity to play for their respective NHL clubs when the Toronto Maple Leafs and Calgary Flames met for a late season match-up last night.
Peters, who got the better of Ondrus in this fight, has played 9 NHL games this season while Ondrus has played just 6 games registering a whopping 34 PIM!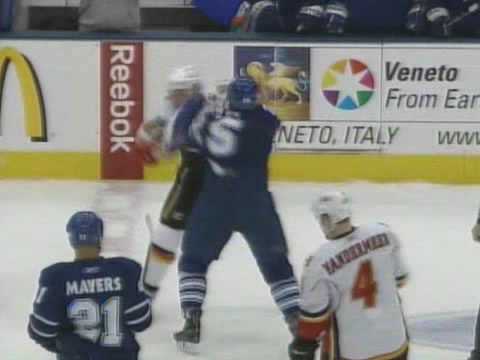 Ben Ondrus seems to be trying to impress Brian Burke, who is known to like tough players, by fighting in every game he plays.  However, according to Hockey Fights.com, Ondrus has yet to win an NHL fight since beating up "tough guy" Travis Green back in 2005-2006 .
The Great One drops the gloves on December 22, 1982 versus the Minnesota North Star's Neal Broten and loses a decisive battle. I'm glad that TSN brought this Gretzky highlight out of the archives! Enjoy.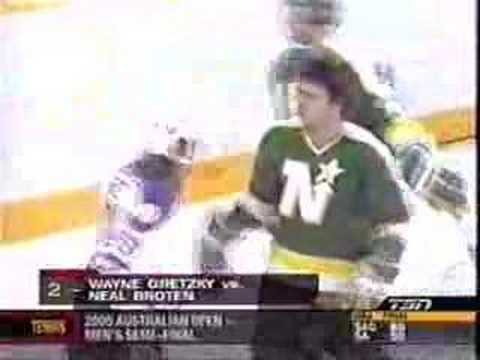 As brought to our attention by a reader, Gretzky fought two other times.
1.) Doug Lecuyer – Chicago on March 14, 1980
2.) Bob Murray – Chicago on March 7, 1984
Brendan Shanahan showed that, even at 40 years old, he still packs as much intensity into his game as he fought Thrashers tough-guy Eric Boulton on February 6, 2009.
The elder statesman did not so much as flinch when Boulton decided to challenge the veteran to a fight. While it wasn't exactly a classic toe-to-toe battle, Shanahan sent a message to his teammates by so willingly dropping the gloves.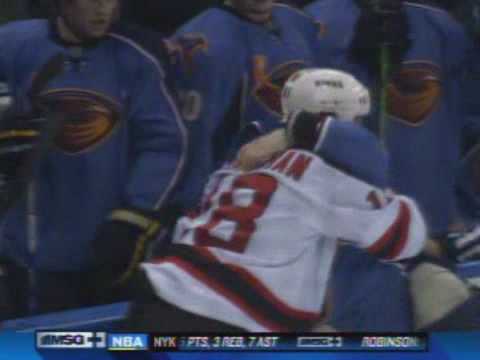 Mike Rupp was ready to fight Boulton for cross-checking Shanahan in the back, but in Classic Shanahan style, he jumped an and fought his own battle! Shanahan ended up with a bloody nose, but actually seemed excited about the fight.
"We hit each other with a couple," Shanahan said. "It felt good. More the part of me hitting him than him hitting me.

"It's (fighting) not something you get to do when you don't play in the NHL without staying out of jail. Usually that's frowned upon in society. I was starting to wonder if I'd ever get to do that again. It's always fun to go against a tough guy."
After a quote like that, it's really hard not to appreciate Brendan Shanahan as a hockey player and stand-up guy.