It is unlikely that this is in response to the accusations that the latest NHL History Will be Made videos outright neglected the Montreal Canadiens, but the NHL has continued with their series of promotional videos of historic NHL playoff events by adding a recent goal from Mike Cammalleri to their arsenal.
Cammalleri knocked a puck out of mid-air past a sprawling Marc- Andre Fleury in Game #2 of the Montreal vs. Pittsburgh series to seal the victory for the Canadiens.
A tremendous display of hand-eye coordination, coupled with the victory by the underdog and the simplicity of the production made for what was likely an easy decision by the NHL to release another video.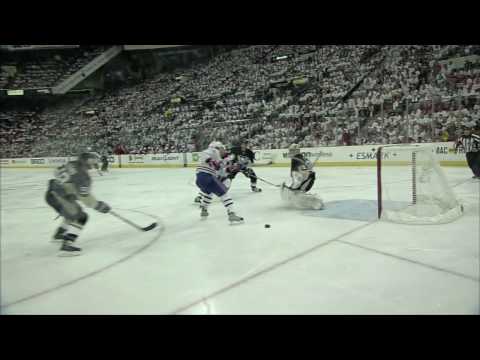 Will This Really Be Memorable?
Sure, Cammalleri's goal was a great display of athleticism and propelled the underdog to victory, but this is Game 2 of a second round series. The History Will Be Made commercials leading up to the playoffs depicted pivotal events in hockey history. Now it's Game 2 of the second round?
So, If the NHL is going down this road, what other moments in this season's playoffs are just as deserving (or more) than Cammalleri's goal?
Is it a slippery slope for the NHL to begin depicting which events from the current playoffs will "make history"?
P.S – I wonder how long we will see the History Will Be Made Parody videos continue to pile up on YouTube?
For any hockey fan, the playoffs are a special time of year. The games suddenly have more meaning and you can see rivalries develop quickly over the course of four or more games. The weather is nicer outside, the days are getting longer and teams battle with each other every second night for their chance to hoist Lord Stanley's cup.
Playoff hockey has given us the most exciting moments in hockey history and some of our best memories as hockey fans. This season, the NHL has offered up a series of History Will Be Made commercials that are promoting this season of playoff hockey.
The commercials are simply constructed and feature some of the most memorable moments in NHL playoff history. What has been even more exciting to watch over the course of the release of these commercial spots is the growing list of fan parody videos that have been posted to YouTube and other Video sharing sites, featuring other memorable moments in NHL playoff history.
Why Simple Can be Good
One of the best things that could have happened for the NHL is for their set of videos to have them "Go Viral". or be shared, among hockey fans across the globe. But, making the videos simple enough for fans to create their own parody versions is even better. Now, the NHL will benefit from the content produced by fans to promote the game in addition to the exposure of the original videos. Could it have turned out better? Probably not.
Sure, the fan parody videos aren't exactly featuring the content that the league would prefer to see, but most of the parody videos identify important moments for fans. And, that's the key. Hockey is live. There are going to be faux pas, referees are going to blow calls, players will make mistakes… that is the nature of game. Fans recognize that the game is not perfect and that sometimes everything doesn't go as planned, but we still love the sport. The game can survive and thrive even though it is not perfect and, perhaps, because it is not perfect.
What Defines Playoff Hockey For You?
What is the moment that most defines the NHL playoffs for you? Was it a heroic performance by your favorite player? A game winning goal by an unlikely hero? Or, was it glaring mistake or a moment riddled with controversy? (Was Brett Hull's foot in the crease?)
Whatever the case, it is important to recognize that for the game to be the emotional rollercoaster that excites fans, there are going to be a variety of memorable playoff moments – certainly not all of them perfect.
You Can't Touch A Flame When It's Red Hot!
Today we've  reached deep into the NHL Hockey archives to bring you a great, or not so great, moment of hockey history.
In the spirit of our Brett Hull article earlier in the week,  this is a video released in his rookie season of 1987 by the Calgary Flames entitled – "You Can't Touch a Flame When it's Red Hot."
If you are a die-hard Flames fan, and you don't remember this video, you may not want to watch it. This video might possibly be the most embarrassing public relations tactic in the history of the National Hockey League.
Looking back, I think a more appropriate title would have been "Mullet's, Mustache's, and Music"
The video actually features Flames players, including some very notable individuals, lip-syncing and playing air-band to a suspect theme song. If I were a Flames fan, The one thing I'd like to remember about this video is the stellar shot of Lanny McDonald's helmet and the best mustache in the history of hockey!
If you happen to be an Oilers fan, I suggest you sit back, put your feet up and enjoy a laugh at your rivals to the south. It might be the only one you get all year!
Also, don't forget to bookmark the video and send it to your favorite Flames fan.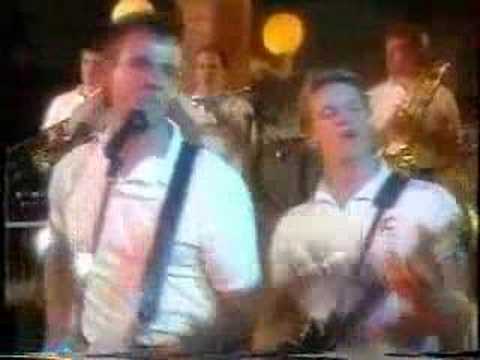 NHL Digest recently had the honor of picking the mind of the man responsible for all of the great communication strategies from the National Hockey League.  Schuyler Baehman is the Manger of Communications for the NHL and one of the minds behind the great marketing and communications that we are witnessing from the league this season.
Mr. Baehman has taken a great amount of time and effort to provide us with some very insightful and revealing commentary on the National Hockey League, so please enjoy the interview.
As Manager of Communications for the NHL, what have been your main priorities for the 2008-2009 season?
My job remains the same every day of every season – to raise awareness of the National Hockey League and its players through media relations.  The amazing men who play the game at its highest level, and the legion of men and women off the ice, be they fans, family, team/League employees or otherwise make it enjoyable job.
We have seen vast improvements in terms of the NHL.com website, what have been the analytical results of those changes in terms of visitors, page views and length of time on the site?
We have seen an increase in virtually every key metric of fan engagement.  However, beyond the traditional metrics, the new site enables us to super-serve fans, particularly displaced ones, by learning more about them and personalizing their experience on the site both actively (serving content based on their favorite team) and passively (over time, serving content based on their behavior).
Fans have heard that the NHL will be promoting another free night of NHL GameCenter Live at the start of January.  Do you have any information on when exactly that might be and if there will be an opportunity to purchase a partial season package at that time?
My sources tell me that the free trial will be in early January and that there is likely to be promotions around partial season plans.  It will be announced shortly.
Speaking of January, the Winter Classic is set for New Years day in Chicago between the Blackhawks and the Red Wings.  What can fans expect from the NHL as far as the events and promotion leading up to the game?
You mean the Winter Classic between the Chicago Blackhawks and Detroit Red Wings at Wrigley Field on New Year's Day at 1 p.m.  ET on NBC in the U.S. and CBC and RDS in Canada?
Promotion is already well underway, across all of our platforms.  The Winter Classic celebrates what hockey is all about.  This event brings us back to the way hockey was born.  And we want as many people as possible to share in the experience, be it at the game or on television.
As far as promotion, the Winter Classic campaign, which debuted on NBC's "Sunday Night Football" on Nov. 30 is in heavy rotation.  My colleague Mike DiLorenzo just completed a very successful first phase of "The road to the NHL Winter Classic" truck tour (which you can read about here).
NHL.com has a microsite dedicated to the Winter Classic, NHL Network will televise the practices on Dec. 31 live beginning at Noon ET, NHL Radio will have scores of interviews leading up to the game, The Hockey Show will be in Chicago for about a week leading up to the game.  I could go on and on.
Fans outside of Chicago and Detroit are not being left out.  They are already seeing promotions and giveaways in their own buildings.  The other 28 teams recognize that as hockey fans the Winter Classic is our game, our history and goes beyond the two teams playing.
You can tell the players are really starting to get into it as well as evidenced by the wearing of the Winter Classic team toques in the warm-ups of the Dec. 6th Blackhawks-Red Wings game.
Reebok is running a unique contest for both U.S. television viewers and in-stadium attendees that challenges fans to find the NHL player who is missing the Reebok logo from his jersey.   Each winner will receive a Stanley Cup trip for four, including airfare, hotel accommodations, ground transportation, and tickets to a Stanley Cup Final Game.
I have only scratched the surface on all of the things being done for this game.
With last season's Winter Classic drawing 70,000 plus fans, ending with a shootout, and snowfall adding to the "Holiday pond-hockey" feel of the game, is there any way the 2009 Winter Classic could be even better?
Yes, but it's not really about being better.  The Winter Classic is all about hockey fans – fans of every team – coming together on New Year's Day and celebrating the game we love.
No matter the weather or the outcome, I expect NHL Winter Classic 2009 to be every bit the celebration of hockey that last year's was.
It was originally thought that this season's edition of the Winter Classic would be held in New York.  However, it was recently learned that Chicago, led by former Cubs President John McDonough, made a serious and persistent pitch to the league beginning last January in order for Wrigley field to acquire this game.  What were the determining factors for hosting the game in Chicago?

There is no shortage of factors that contribute to the selection of Chicago as the site for NHL Winter Classic 2009.
You touched on one very important factor: John McDonough.  He is a case study on effective leadership and someone I have been admiring professionally from afar for quite a while.
More than that, Chicago is a bastion of passionate sports fans, passionate Blackhawks fans, a great city that rallies around great events.
The renaissance of the entire Blackhawks franchise is an incredible story and one that continues to resonate.  Coming from where they were just 2 seasons ago to currently leading the League in attendance in remarkable.  Having the Winter Classic play a role in that transformation was attractive.
Additionally, the opportunity to play the game in a facility as iconic as Wrigley Field was very appealing.  That is sacred sports real estate.
In his comments this summer, Commissioner Bettman acknowledged the interest and efforts of the New York Yankees and the City of New York of hosting the event.  He has stated publicly that discussions will continue regarding the possibility of playing a future Winter Classic at Yankee Stadium.  Weather that is next year, or the year after or the year after remains to be seen.
One other note on Chicago:  I have read/heard some misguided and uninformed comments about the game being at Wrigley Field and not Soldier Field.  Considerable resources and time were spent examining the possibility of playing the Winter Classic at Soldier Field.   The fact that New Year's Day is on a Thursday this year precluded the Winter Classic from being played at Soldier Field.  Per NFL rules, teams must make their stadium available to host a first-round playoff game on Saturday, January 3rd (Remember, the NFL schedule was set well in advance of the selection process).
Again, after lengthy discussion, it was agreed by all parties involved that it was too great a risk that Soldier Field would not be in proper condition to host a playoff game two days after the Winter Classic.
As it is, an NHL game played at Wrigley Field will be a once-in-a-lifetime event.
With respect to next season's Winter Classic and the media build up to the 2010 Olympics in Vancouver, do you anticipate any detraction from the excitement that has been generated around the NHL's event?
Anyone who tells you that they have information on NHL Winter Classic 2010 is lying to you.  No decisions have been made if in fact there will even be an event next season.  Like this year, the League will wait to see how the Winter Classic goes this year and determine what is in the best interests of the entire NHL going forward.
Players who have commented about participation in the Winter Classic often mention the experience that their friends and family have while attending the game. How has that aided the NHL's positioning of the game as a holiday family event?

At its core, the Winter Classic is the ultimate shared experience among hockey fans.   The Winter Classic reminds us of the underlying spirit of the sport – it's our weather, our challenges, even our hardships.  Who better to share that with than those who have been behind you since you first laced up your skates?
In a recent NHL.com column several Chicago Cubs have expressed their excitement about attending the game.  Are you aware of any other confirmed celebrity attendees for the Winter Classic?

These things are always subject to change because of busy schedules, but needless to say the magnitude of this event is drawing interest from boldface names around the country, including:
Vince Vaughn, Denis Leary, Billy Corrigan, Taylor Kitsch, Pat Sajak (big Caps fan: Read about Sajak's Love for the Caps), William Petersen and the director John Hughes, among others.
Also, plans are in the works for a number of Chicago legends who have called Wrigley Field home to be at the Winter Classic.  I'll withhold the names as not to ruin the surprise
What are some of the newer developments from the NHL's Communications Department that fans might not yet know about?
Every new development we implement is designed to bring our fans closer to our players and the League than they have ever been before.
Like the entire League, we are being more aggressive in a number of different areas.  Not only are we using platforms such as Twitter and others to communicate directly with fans, but we are working closely with all of the content providers here at the NHL to deliver the type of stories, video and images that are fans are craving.   Here are some great video  examples of what I am talking about:
http://www.nhl.tv/team/console.jsp?&id=23719
http://www.nhl.tv/team/console.jsp?&id=27979
This season we will be offering content around the All-Star Game and Stanley Cup Playoffs usually reserved for the media in the form of static guides to dynamic Web sites open to the public.  We beta tested this last year and are confident that it will be well received.
Last season we completely changed the way we approach the media availability of both the NHL All-Star Game and the Stanley Cup Final.  Fans for the first time saw live programming on NHL Network of each of those events.  Our redesign also allowed for live content for every outlet present, be they print, radio, television, online or whatever to better deliver our players to our fans.  The players involved in each event had high praise for how each was conducted.
One last new initiative that I don't believe many fans are aware of was our successful Player Media Tour we had this summer.  As always, the goal is getting more exposure for our players.  So we gathered 14 top players in New York City for 2 days of commercial shoots, print interviews, television interviews, radio interviews, promotions, photo sessions and even a little bit of fun.
Fans likely have seen some of the things that resulted from the tour, such as the great "pictures come alive" marketing campaign that our marketing people came up with.  We also filmed the digital television PSA that has been running on NHL Network, took photos that were included in NHL Shop's recent catalogs, shot the features where a player recalls his first goal that many fans saw across various platforms and even captured footage and interviews being used to promote the NHL Winter Classic.  I know I am leaving off a bunch of things, but I think you get the picture.
That was a big step forward for us, with larger steps to come in the future. I encourage fans to remain engaged with the NHL – it is a great time to be a hockey fan.
NHL Digest would like to sincerely thank the National Hockey League Communications department and Schuyler Baehman for the opportunity to share these insights with our readers.  For those who are interested, please leave your thoughts or questions in the comments.  Alternatively, you are able to contact Schuyler at the following:
Schuyler Baehman
Manager of Communications
National Hockey League
1185 Avenue of the Americas, 14th Floor
New York, NY 10036
sbaehman@nhl.com
twitter: @schuylerb
What does the National Hockey League have to do with Social Media website applications such as Facebook, Twitter, YouTube, and online video marketing?
Find out in our exclusive interview with the Director of Corporate Communications for the National Hockey League, Mike DiLorenzo.
That's Mike in the picture with Brian Burke and Lord Stanley.
NHL Digest took this excellent opportunity to ask many questions that readers have been wanting legitimate responses, from a credible source, for a long time.  Mr. DiLorenzo was very candid and provided excellent food for thought on many communications issues facing the National Hockey League today.
Enjoy.
As Director of Corporate Communications for the NHL, what are your major responsibilities?
Communications and media/analyst relations with a specific focus on business and technology themes.
We have heard Gary Bettman stress the technological savvy of Hockey fans.  In that light, how much emphasis would you say that the NHL is placing on new media marketing?
For fans, digital is the front door to the National Hockey League.  Not only are our fans technically sophisticated, but approximately 50% of our fans are "displaced," meaning they live in a different market than their favorite team.  Displaced fans have a significant access constraint, and digital is filling that void … particularly for live video.
What are your thoughts on some teams granting press credentials to bloggers?  Does this align with the league's vision for penetrating the new media marketplace?
There are many responsible New Media outlets that deserve the same billing and treatment as the so-called traditional media.  However, I personally believe that New Media outlets first must establish their credibility, authenticity and intention as a news organization in order to earn a credential.
I feel it would be a mistake to have the press box and the player dressing rooms become the "Wild West" of journalism.
Does the league have any specific plans to leverage online social networking application such as Facebook?
As you've already pointed out, our fans are technically savvy.  I think moving forward you'll see the League taking the game to even more places online where thousands of our fans are already congregating, and specifically programming to fans on those platforms.  A good example is the NHL's YouTube page.
Personally, I actively use Twitter to post NHL news and engage with fans, and I know a number of players and teams are doing the same there.  Also note, we enable fans to take the video from NHL Network Online and link or embed it wherever it is they live on the Web.
Get Mike's Twitter feed at www.twitter.com/umassdilo

Over the past year we have seen an increase in audio and video content on the NHL.com website.  Is this a natural progression, or is this part of a concerted planning effort?
It is definitely part of the strategic business plan.  NHL.com is one of our central platforms for growth, and video is definitively a big driver of high quality traffic to the site.  There are a few key factors driving this; including what we already talked about in terms of the tech-savvy fan base, and the high instances of fan displacement and access constraint.  But there are other considerations.
First, we have some unique and inherent advantages in digital media that allow us to leverage video in numerous ways.  What we also have that's unique is access – the League can get behind the scenes with the teams and players.
So we're programming NHL.com to be a personalized, all-access pass to the NHL – on the ice and off.  A really good example of the approach is The Hockey Show, which is one of the channels on NHL Network Online.  The Hockey Show is "E!" meets "ESPN".
Is there a key factor from your market research about the NHL's fan base that might be surprising to the average fan?
I do think people would be surprised to know that about 50% of our fans are displaced.  For example, approximately 10% of Red Wings fans live in California.
Some might also be surprised to know that there are actually more avid fans in the USA than in Canada (though a higher % of Canada's population can be considered avid).
Does the NHL have any plans to increase the online presence specifically with regard to the history of the league?
Over time you will see more original programming – both online and on NHL Network – dedicated to the visual history of the NHL.  A good example is the original documentary series called, "Days That Changed The Game" on NHL Network.  The first one aired in August and covered the 20th anniversary of Gretzky's trade to LA.  There will be 11 more of those.
How is the NHL encouraging fan development from the grassroots level in the United States?
NHL Youth Development.  Also, programs such as Hockey Is For Everyone.  Hockey is for Everyone is a part of the NHL Foundation, the National Hockey League's charitable and community relations organization, and a major component of the League's youth hockey programming.
Hockey is for Everyone provides support and unique programming to non-profit youth hockey organizations across North America that are committed to offering children, of all backgrounds, opportunities to play hockey. Since its inception, Hockey is for Everyone has exposed more than 45,000 boys and girls to unique hockey experiences.
With respect to rumors regarding expansion and/or re-location of teams in the league, what is the best avenue for fans to determine if there is legitimacy to these stories?
Commissioner Bettman is frequently asked by the media to address these issues.

What would you consider your biggest accomplishment since becoming the NHL's Director of Corporate Communications?
Company-wide, I believe the NHL is doing a good job of positioning itself at the forefront of the New Media revolution.  That said, I firmly believe that the best is yet to come.  We have a really compelling story to tell, and I think over time we'll continue to move the needle forward at a pretty healthy clip.
What would you say is the league's biggest obstacle when it comes to marketing and communications?
Right now, we're competing for time with the global economic story.  From a perception standpoint, we're out there showing the marketplace that the NHL is a growth and innovation story.
Finally, are you the same Mike DiLorenzo who toiled in the Central Hockey League a couple seasons ago for Memphis, Loredo and Odessa?
I'm not, though that Mike DiLorenzo might be upset to learn that he toiled!  I spent 32 years in the Boston area before coming to NYC last January to work at the NHL.
P.S – Our apologies to "the other" Mike DiLorenzo if we offended you – none intended.
A big thank you goes out to Mr. DiLorenzo for agreeing to take part in this interview.
If you have any questions or comments for him, please leave a comment at the bottom of the article or feel free to chat with Mike via his Twitter.com feed (www.twitter.com/umassdilo).  While you are at Twitter.com, please add our NHL Digest feed as well – www.twitter.com/nhldigest.
The National Hockey League is apparently running out of gimmicks to market the game. This season's attempt to make a splash is comprised of additional games to be played overseas.
I was really expecting the marketing brass at the league office to come up with something better than that. However, it may be just as well after the introduction of the RBK Edge jersey (which were not loved by the players) and the complete embarrassment of the league at the NHL Skills competition during All-Star weekend.
In some ways hockey is a renegade sport. There are legions of die-hard fans that were on the verge of mental breakdown during the lockout and then there are those who just don't get the game and never will.
Somewhere in the middle is what the National Hockey League marketing department has been trying to cater to over the past few seasons. Frankly, that is the job of a business organization – gaining new customers.
But At What Expense?
The NHL has frequently flirted with changing some of the major rules of the game such as making the nets larger, but has settled for various "tweaks" that will increase scoring (what the NHL believes will attract more fans) without disgracing the game in the eyes of the traditional hockey fan. In my opinion, the NHL has done a fair balancing act in this regard, but who is to say that increased scoring is really what "non-traditional" hockey fans really want?
Sure there may have been some academic studies in this regard, but a casual observer might say that Soccer has the most fans of any sport in the world and Soccer games feature far less scoring than hockey games. The casual observer might also say that the non-traditional hockey fan gets more excitement out of a big hit or, god-forbid a fight, than an actual goal!
Is There Really Less Scoring?
I might even ask that you compare the number of scoring plays in an average NHL game versus the number of scoring plays in an NFL game. For the sake of argument, let's use touchdowns versus goals because nobody gets really excited over a field goal unless it's a game winning field goal anyway.
So, how many touchdowns are scored in the average NFL game? Between 6 and 8 would certainly be generous.
In the "new" National Hockey league, there are fewer games where less than 6 total goals are scored.  Early in this season there have already been 14 games where more than 6 goals were scored.
The NFL is highly watched and admired by fans and there is no reason why the NHL should not be as well.  In fact, when you add in the entertainment value of fighting into the game of hockey I would submit that an NHL game offers more entertainment value for the dollar than football does.  This is especially true given the cost of tickets to an NFL game…if you can get tickets to your favorite team's games.
So What Is Wrong?
What is wrong with Hockey as a viable entertainment product?
What will it take to push hockey into the "mainstream" in the USA?
Where has the National Hockey League gone wrong over all of these years?